Airlines, Commercial Aviation & Maintenance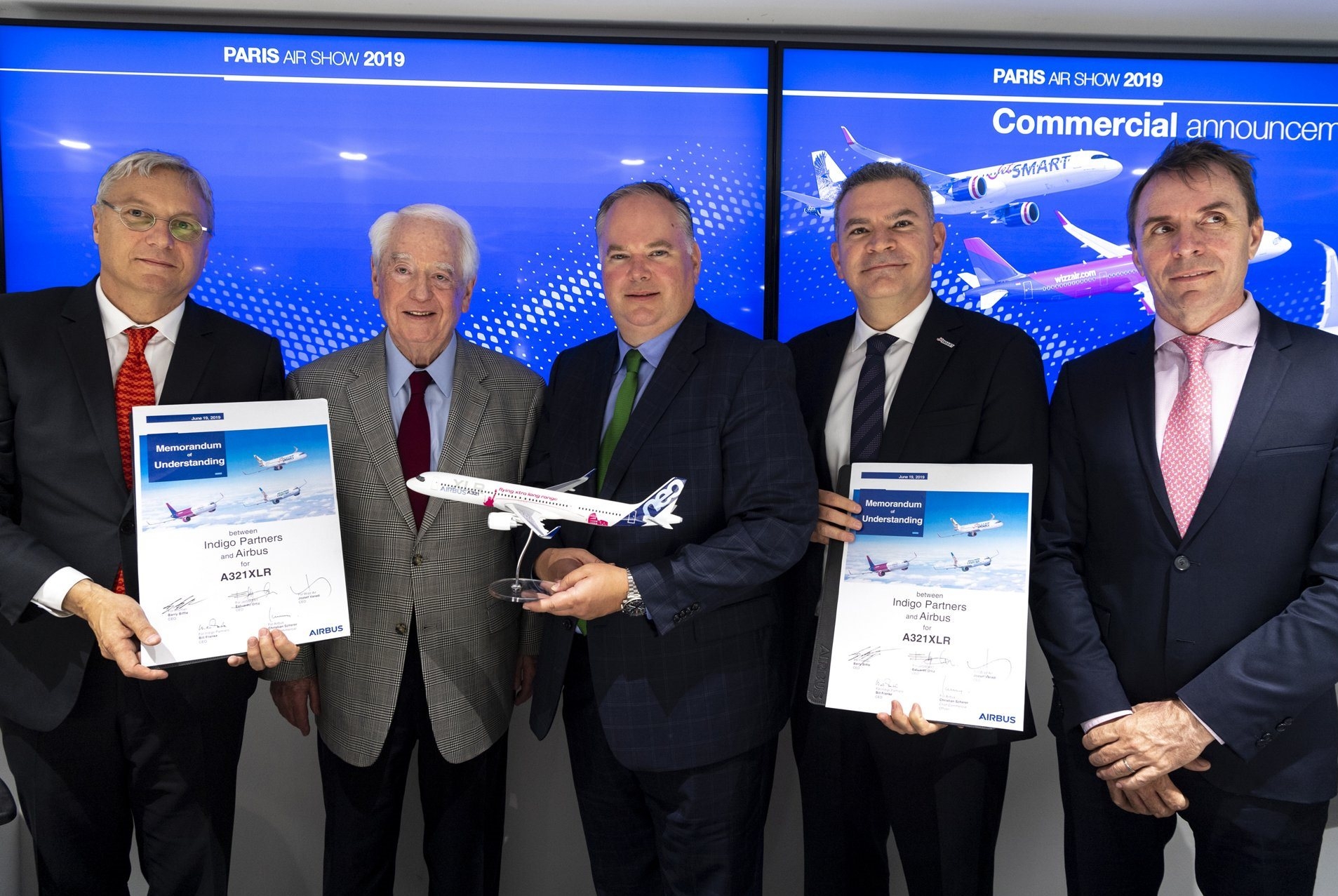 Source: Airbus
PARIS AIR SHOW -- Indigo Partners and three of its airlines will acquire 50 of the new Airbus A321XLR long-range, single-aisle jetliners. The Memorandum of Understanding includes new orders for 32 A321XLRs and the conversion of 18 existing A320neo family orders.

Indigo Partners LLC, based in Phoenix, Arizona, is a private equity fund focused on worldwide investments in air transportation. Indigo has major ownership stakes in four low-cost airlines, including Frontier Airlines (U.S.), JetSMART (Chile), Volaris (Mexico) and Wizz Air (Hungary). The four carriers now operate a combined 295 Airbus planes and, with the new commitments, have 636 on order.

Twenty of the A321XLRs will be allocated to Wizz Air, 18 to Frontier, and 12 to JetSMART.

Airbus announced the launch of the A321XLR at the Paris Air Show. Derived from the A321neo, the A321XLR is the longest-range single-aisle commercial jetliner ever, capable of flying routes up to 4,700nm with unbeatable fuel efficiency. With a range previously found only in twin-aisle aircraft, A321XLR will enable airlines to exploit new route opportunities with low operating costs, reduced environmental impact, and provide passengers with a comfortable travel experience.
Source: Airbus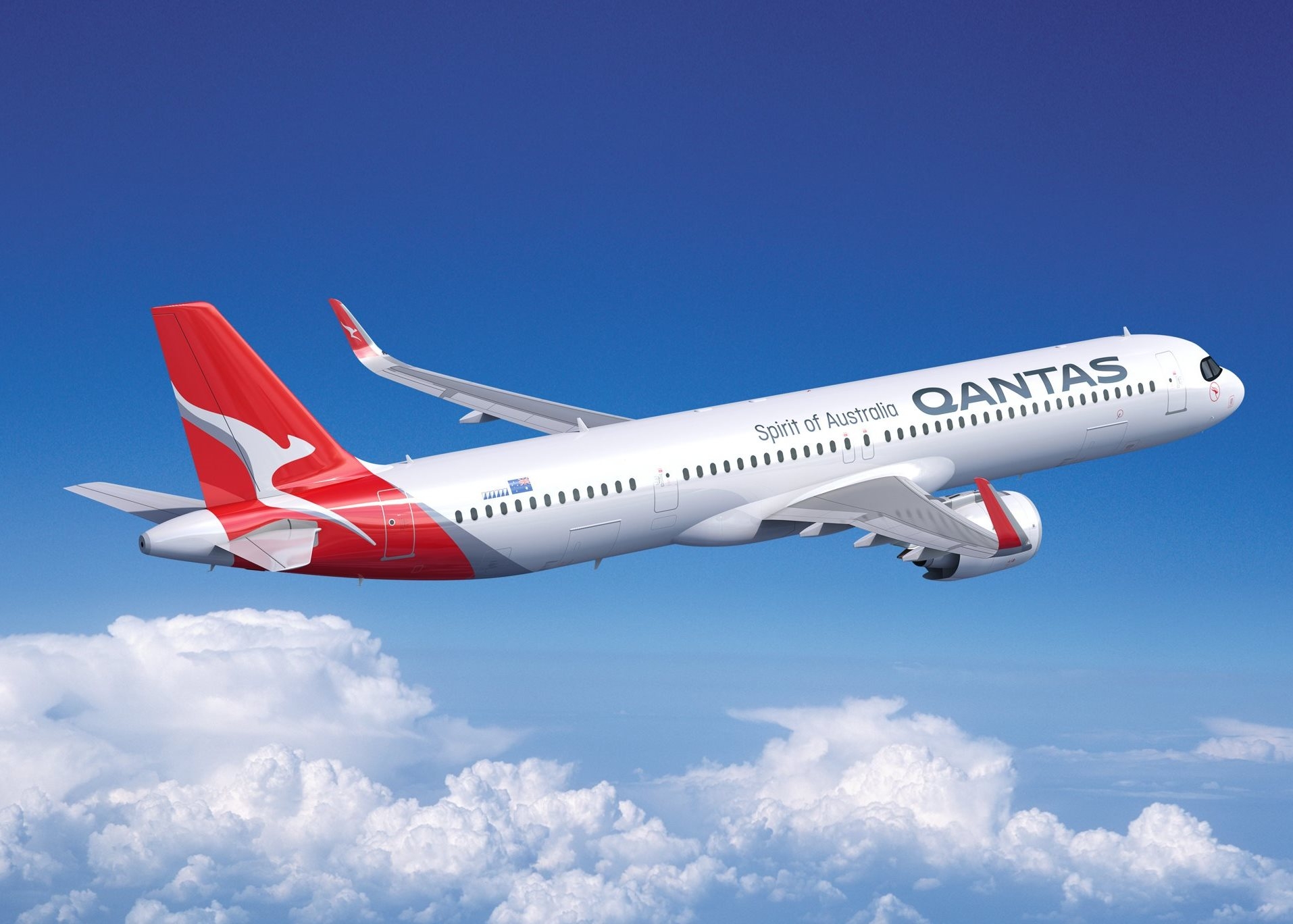 Source: Airbus
PARIS AIR SHOW -- Australia's Qantas Airways Limited is backing Airbus' new extended range A321XLR with an agreement covering 36 aircraft. This includes the conversion of 26 existing A320neo Family orders plus a new firm order for 10 A321XLRs.

The aircraft will allow the Qantas Group, which includes low-cost carrier Jetstar, to improve its network and fleet flexibility to better serve point-to-point markets in Australia, Asia and the South Pacific.

The A321XLR is the next evolutionary step from the A321LR which responds to market needs for even more range and payload, creating more value for the airlines. From 2023, it will deliver an unprecedented Xtra Long Range of up to 4,700nm - 15 percent more than the A321LR and with 30 percent lower fuel burn per seat compared with previous generation competitor aircraft.
Source: Airbus
Source: Airbus
PARIS AIR SHOW -- Dublin-based leasing company Accipiter Holdings has signed a Purchase Agreement to acquire 20 A320neo aircraft. The order, which was disclosed during the Paris Air Show by Paul Sheridan, Accipiter CEO and Isabelle Floret, Head of Leasing Markets, had been completed in March 2019, and was listed in the order books as undisclosed.

The new single-aisle aircraft will further expand the portfolio of Accipiter Holdings, which aims to be a leading player in the global leasing market and is wholly owned by Hong Kong's CK Asset Holdings Ltd.

Together with Vermillion, its joint venture with Mitsubishi Corporation subsidiary MC Aviation Partners (MCAP), Accipiter manages a total portfolio of just under 150 owned and committed aircraft.

Engine selection will be made at a later date.
Source: Airbus
NOTICE TO USERS
Warranty: Forecast International makes no guarantees as to the veracity or accuracy of the information provided. It warrants only that the information, which has been obtained from multiple sources, has been researched and screened to the best of the ability of our staff within the limited time constraints. Forecast International encourages all clients to use multiple sources of information and to conduct their own research on source data prior to making important decisions. All URLs listed were active as of the time the information was recorded. Some hyperlinks may have become inactive since the time of publication.
Technical Support: Phone (203)426-0800 e-mail support@forecast1.com
Subscription Information: Phone (203)426-0800 or (800)451-4975; FAX (203)426-0223 (USA) or e-mail sales@forecast1.com
Aerospace/Defense News Highlights is published by Forecast International, 22 Commerce Road, Newtown CT 06470 USA. Articles that list Forecast International as the source are Copyrighted © 2019. Reproduction in any form, or transmission by electronic or other means, is prohibited without prior approval from the publisher.
Forecast International invites all interested companies to submit their announcements and press releases for review and inclusion in our Intelligence Letters.
Contact: Ray Peterson, Director of Research
Email: Ray.Peterson@forecast1.com
Phone: 800-451-4975
Fax: 203-270-8919