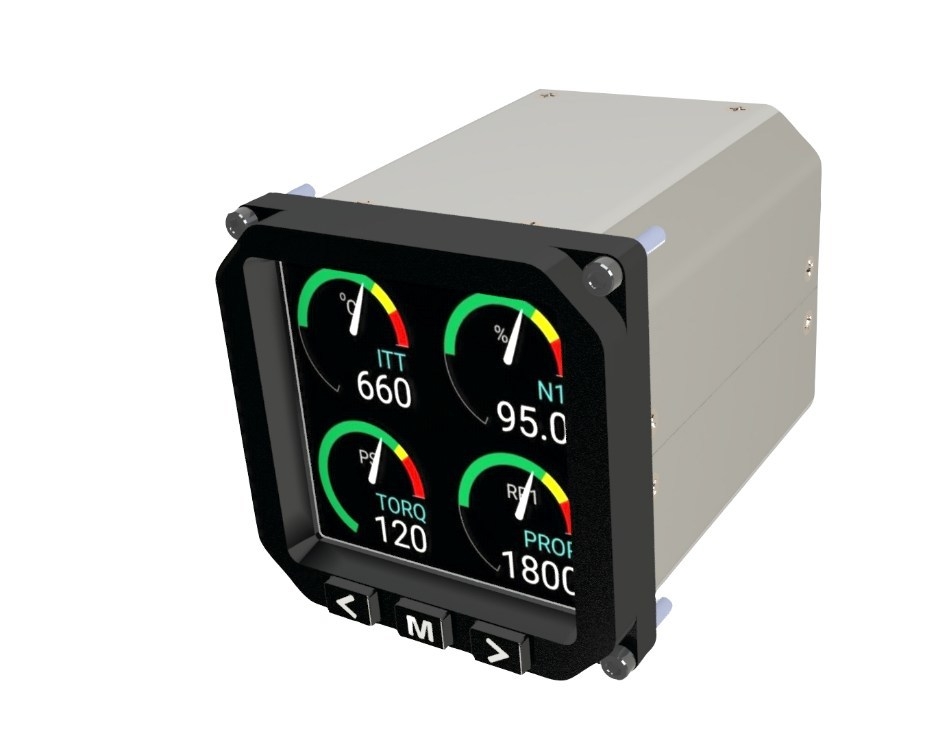 .Source: Intellisense Systems, Inc.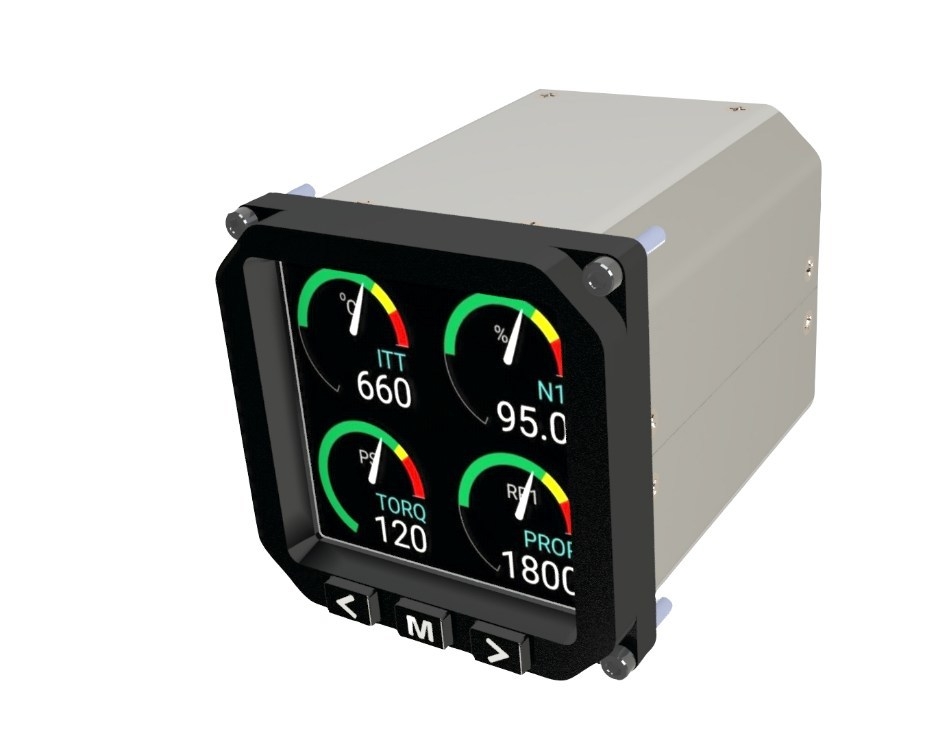 Source: Intellisense Systems, Inc.
Close
TORRANCE, Calif. -- Intellisense Systems, Inc., a provider of multi-function avionics display systems, is now offering a 3ATI Standby Engine Display (3ATI SED) that features a high resolution active-matrix liquid crystal display and a customizable bezel. The 3ATI display is designed to help repurpose or expand cockpit functionality by aggregating, processing, and displaying engine and aircraft data from various avionics systems. Intellisense says that the I/O modules supported by the 3ATI SED offer customers ease of integration and scalability for future equipment interfacing or field data loading over either Gigabit Ethernet or ARINC-429 interfaces. All input and output connections are protected against EMI, ESD, and lightning according to MIL-STD-461, MIL-STD-464, and MIL-STD-704 standards.

The 3ATI comes with a completely modular bezel to support customers' exact specifications and applications. The onboard system-in-package ARM processor, power supply, I/O modules, and comprehensive set of software development tools deliver compact, rugged building blocks within the 3ATI system. Intellisense says that this solution lends itself to interface swapping and future evolution at very low costs, enabling it to integrate with any operational flight program and provides the best overall value to aircraft manufacturers.

"This 3ATI display is the ideal replacement for any legacy system," said Jack McParlane, Director of Business Development at Intellisense. "It delivers a low-cost, robust display hardware platform to support a variety of operational flight programs and provides customers with full flexibility in repurposing or expanding the 3ATI display's role in the cockpit. As with all our displays, we want to enable future growth, offer a variety of interfaces, and lower lifecycle costs. Our 3ATI display achieves this with an open architecture and modularity, allowing our customers to integrate and program the display with ease."

The 3ATI includes a proven, high-resolution display head assembly (DHA) with 480 x 480 pixels, or 200 pixels per inch density, providing pilots with acute symbology and graphics for improved situational awareness. It is sunlight-readable with display luminance greater than 350 foot-Lamberts in day mode and NVIS-compatible in night mode. This DHA has been in production for 5 years with over 1,000 units fielded on both military and commercial platforms.
Source: Intellisense Systems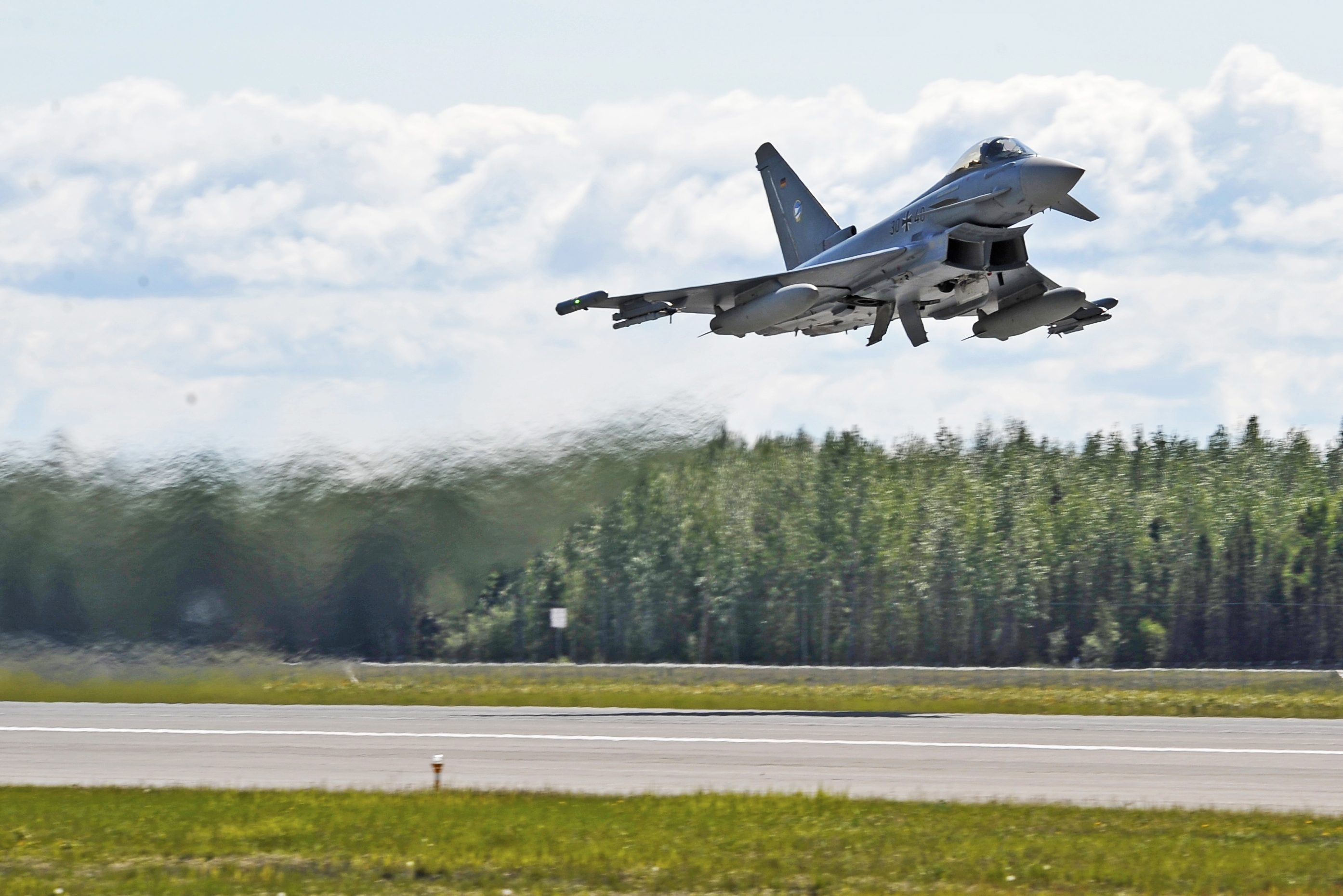 .Source: US Air Force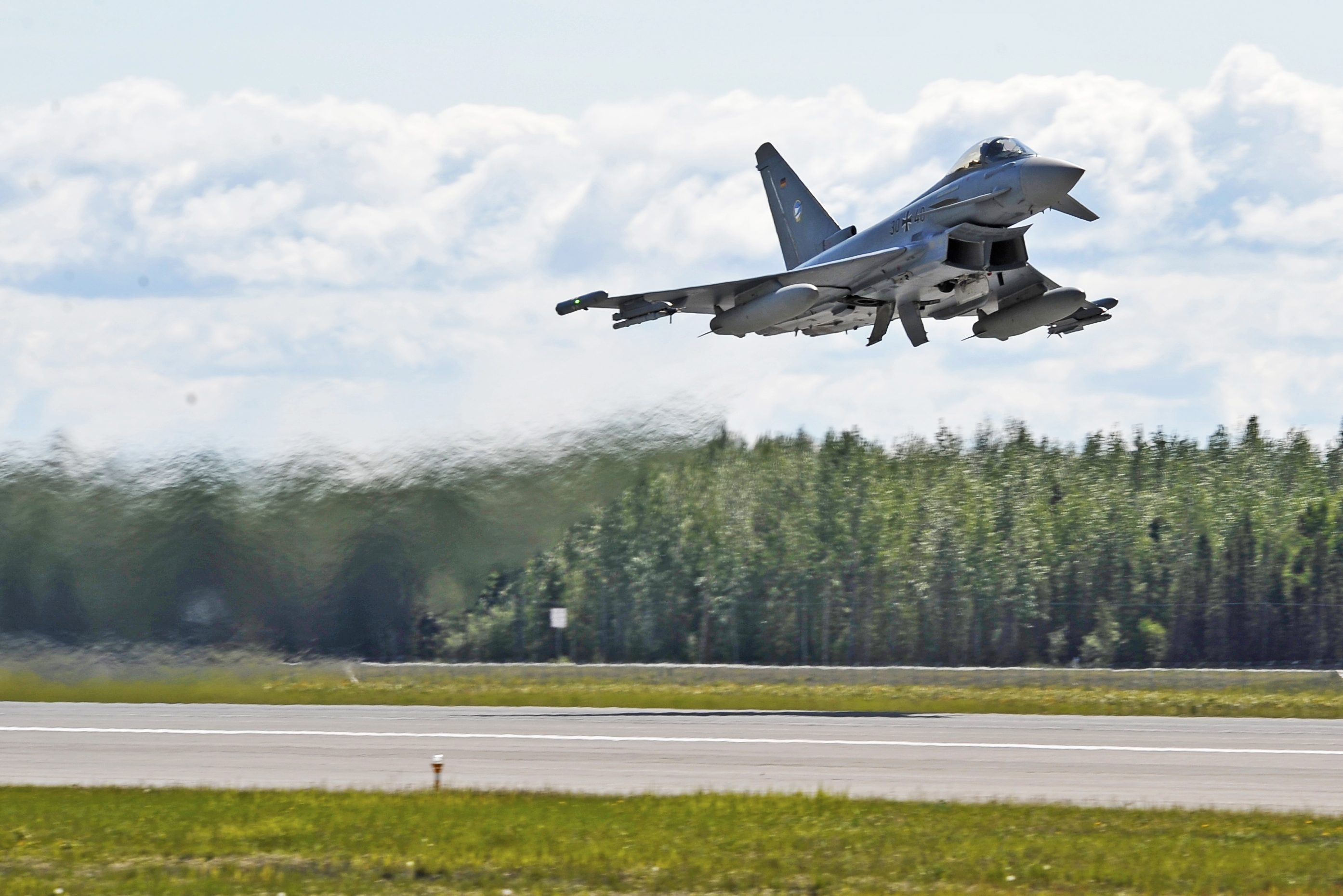 Source: US Air Force
Close
ROME -- Leonardo, which leads the development and delivery of the Typhoon's ECRS Mk0 and ECRS Mk2 radars, will also deliver R&D work as well as key antenna, processor, and APSC components for the HENSOLDT-led ECRS Mk1

Leonardo has announced that it has signed over €260 million of contracts with HENSOLDT which will see the company playing a key role in the development and delivery of the Eurofighter Typhoon's ECRS Mk1 (European Common Radar System Mk1) E-scan (or active electronically scanned array [AESA]) radar, ordered by Germany and Spain. Leonardo will conduct development work on new wideband capabilities and provide core parts of the new radar's antenna, APSC (Antenna Power Supply & Control), and its processor.

Leonardo is already the design authority for the ECRS Mk0 E-scan radar ordered by Kuwait and Qatar -- the design of which underpins the ECRS Mk1 -- and is the design authority for the UK-led ECRS Mk2 radar.

HENSOLDT is the design authority for the ECRS Mk1 radar, while Airbus Defence & Space will integrate the radar onto the Eurofighter Typhoon. Leonardo, drawing on its leadership of the EuroRADAR consortium that produces the ECRS Mk0, is providing enablers to HENSOLDT to assume the leadership role for the ECRS Mk1, bolstering Germany's onshore combat air capabilities. The close collaboration on this project is representative of the strong wider partnership between the two defense electronics companies.

The German and Spanish ECRS Mk1 radar introduces a digital multi-channel receiver and new wideband transmit receive modules, enhancing Mk0 capability. In addition to the production of core antenna, APSC, and processor components, HENSOLDT has contracted Leonardo to perform development work on wideband capabilities that will exploit the new receiver and transmit / receive modules to boost the ECRS Mk1's detection range and accuracy. The first ECRS Mk1 radar is expected to be produced in 2025.

Leonardo will deliver modules for the ECRS Mk1 from its sites in Nerviano, Edinburgh, Campi Bisenzio, and Palermo.

Leonardo is also leading the design of the ECRS Mk2, a new variant being developed in partnership with BAE Systems featuring a multi-function-array. Development of the ECRS Mk2 has been funded by the UK and is being supported by Italy through the ECRS Mk2 Industrial Joint Team.
Source: Leonardo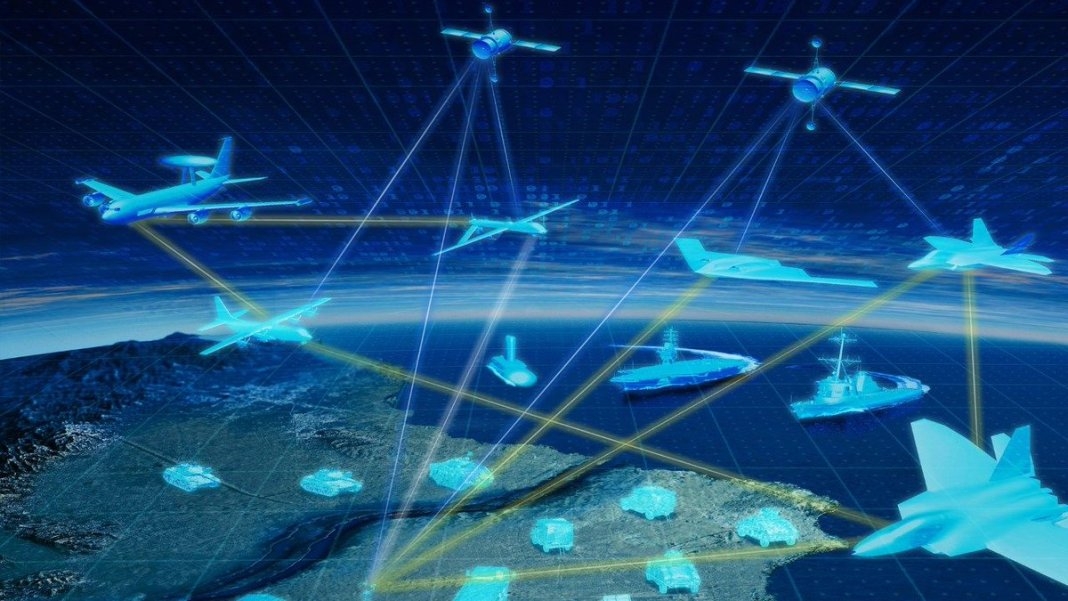 .Source: U.S. DoD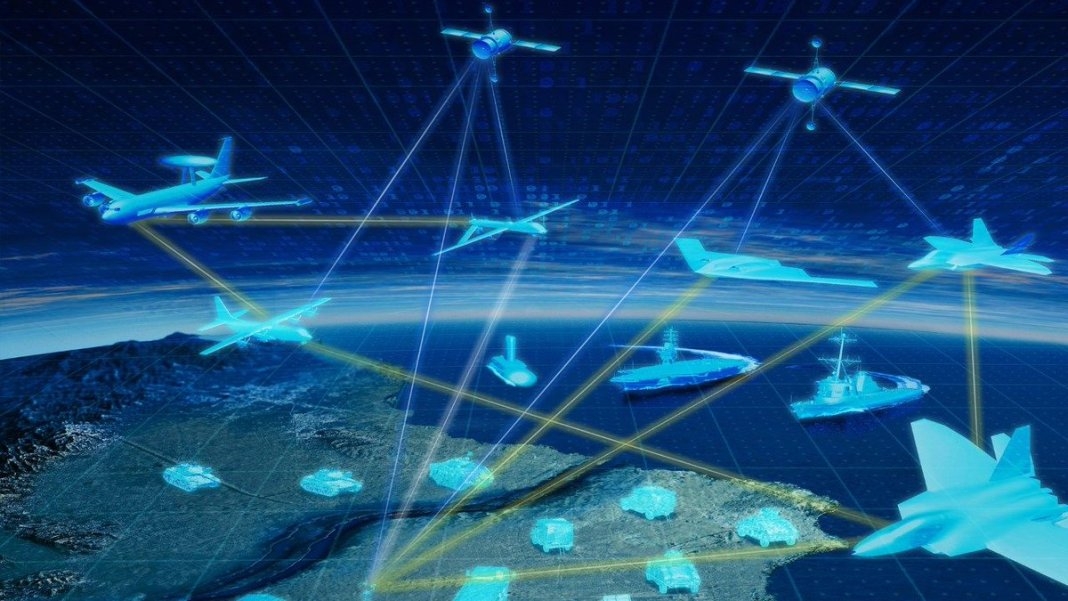 Source: U.S. DoD
Close
HUNTSVILLE, Ala. -- Northrop Grumman Corp. programs recently completed successful testing and demonstrations as part of U.S. Army's Project Convergence. The testing demonstrated Northrop Grumman's architectural capability to integrate networks, sensors, and effectors across domains for joint operations.

The Northrop Grumman systems involved included the Army's Integrated Air and Missile Defense Battle Command System (IBCS), Joint Tactical Ground Station (JTAGS), and the Marine Corps TPS-80 Ground/Air Task-Oriented Radar (G/ATOR).

"Project Convergence provided us another opportunity to demonstrate our architecture's ability to deliver joint connectivity across the services," said Christine Harbison, Vice President and General Manager, Combat Systems and Mission Readiness, Northrop Grumman. "That open architecture allows utilization of satellite communications to conduct remote engagements of target missiles, demonstrating our ability to connect the battlespace for all-domain operations."

During live-fire exercises at White Sands Missile Range, New Mexico, a number of tactical ballistic missile surrogates were launched. A mix of ground, airborne, and space-based sensors sent tracking data via satellite communications to an Engagement Operations Center at Fort Bliss, Texas. There, soldier operators remotely tracked the targets and initiated the launch of missiles to engage the targets.

Also during Project Convergence, the Army conducted a series of complex network and communication exercises in which IBCS supported the execution of precision strike missions. In addition to conducting an integrated air and missile defense mission, it fused data from an F-35 sensor to identify and track a ground target and provided the data to Army Field Artillery Tactical Data System (AFATDS) and AFATDS engaged the target.

Project Convergence is a U.S. Army learning campaign, pursuing an Artificial Intelligence and machine learning-enabled battlefield management system; it is the U.S. Army's contribution to the military-wide Joint All Domain Command and Control (JADC2). Project Convergence 21 was an event that tested sensor-to-sensor capabilities as a Joint Force through a series of seven scenarios.
Source: Northrop Grumman