Drones and Unmanned Systems - Air, Sea, Land, Micro & Robot Systems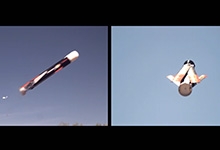 Source: DARPA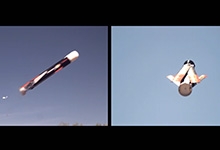 Source: DARPA
Close
ALBUQUERQUE, N.M. - ATA unveiled LOCUST, a Low-Cost Counter-Unmanned Aerial System for Targeting, at the 2019 Counter UAS Summit in August and will showcase LOCUST at AUSA's Annual Meeting and Exposition, October 14-16, 2019 in Washington D.C. LOCUST will also be participating in U.S. government field experiments in October and November.

LOCUST was designed from the ground-up to provide a capable and cost effective defense against low cost asymmetric unmanned aerial system (UAS) threats. LOCUST detects and identifies UAS threats using active and passive radio frequency (RF) and electro-optical infrared (EOIR) sensor subsystems, and it negates the threats using intelligent electronic attack (EA) and high energy laser (HEL) effectors.

Each affordable LOCUST delivers a layered detection and identification capability in a fixed emplacement configuration or on a mobile platform with HEL shoot-on-the-move capability. LOCUST is designed for the counter UAS mission, and the technologies and approach are scalable to provide a compact, rugged, and modular multi-mission system to conduct more effective and efficient detection, identification, management, and mitigation of Group 1 and Group 2 UAS threats. LOCUST is designed for installation on military or commercial platforms to defeat UAS and intelligence, surveillance, and reconnaissance (ISR) threats, as well as provide ISR capability. It can be rapidly inserted into integrated battle management, command, and control (BMC2) architectures as well.

"Applying ATA's technical strengths to help protect our military and civilians from the rapidly emerging threats of small unmanned aerial systems is an endeavor that builds on our heritage and is pivotal to ATA's future aspirations for high-tech solutions and manufacturing," said ATA President Dan Gillings.

LOCUST leverages over 30 years of experience providing precision pointing, tracking, and beam and fire control on laser weapon programs. ATA, in business since 1975, is an advanced technology company specializing in precision stabilization, tracking, pointing, and controls for optical systems including HEL systems and optical communications systems.
Source: Applied Technology Associates
Associated URL: Click here to visit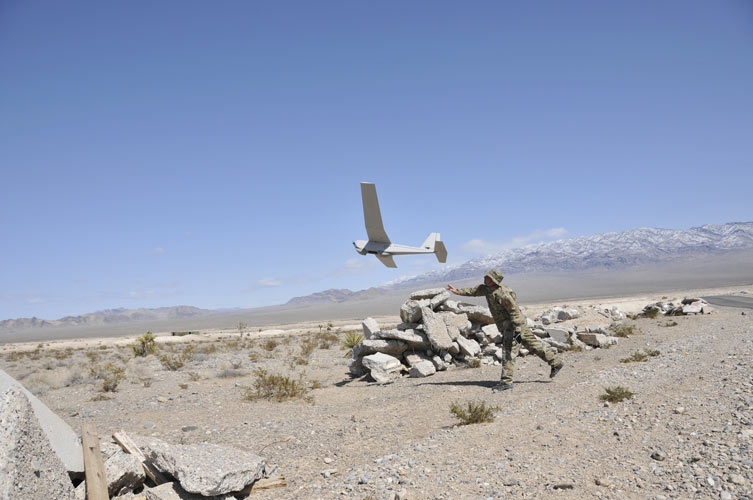 Source: AeroVironment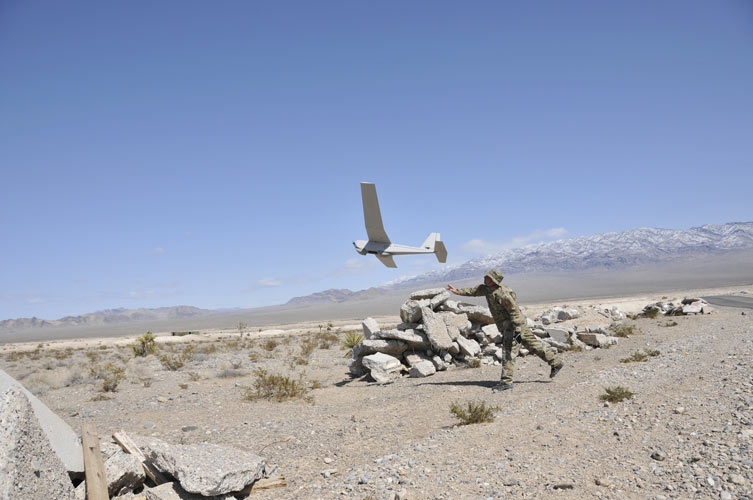 Source: AeroVironment
Close
WASHINGTON - AeroVironment, Inc. has announced the launch of Puma LE (Long Endurance), the next generation in its Puma All Environment small UAS product line. Puma LE builds on the combat-proven Puma AE legacy with new capabilities, increased range, and expanded payload capacity. With the integrated Mantis i45 gimbaled EO/IR sensor and NVG-visible laser illuminator, Puma LE provides the warfighter with superior imagery for intelligence, surveillance, and reconnaissance (ISR) during day, night and low-light operations on land and in maritime environments.

Delivering Group 2 capabilities in a Group 1 footprint, the aircraft weighs only 22.5 pounds (10.4 kilograms), and is launchable by hand or bungee, making Puma LE easy to deploy and recover. On-board batteries provide 5.5 hours of flight endurance, doubling the time on station of Puma 3 AE, with an operational range of 60 kilometers when used with AeroVironment's Long-Range Tracking Antenna (LRTA). Puma LE's economical dual-case mission pack contains everything needed to perform two complete 5.5-hour missions with a single aircraft and Ground Control System (GCS).

Puma LE is purpose-built for multi-mission operations with up to 5.5 pounds of total payload capacity. The aircraft's ruggedized secondary payload bay enables the integration of third-party payloads with a dedicated power supply providing 18-24 volts at up to 5 amps, and an Ethernet connection port for payload communications. This capability provides the flexibility for operators to incorporate specialized payloads such as electronic warfare, RF emitter geolocation, laser designation, communications relay and others.

"Puma LE is the next generation of the combat-proven Puma AE small UAS, delivering immediate tactical ISR, extended endurance and a dedicated secondary payload bay to dramatically expand its mission capabilities," said Rick Pedigo, vice president of sales and business development for AeroVironment. "With Puma LE, AeroVironment expands the envelope of small unmanned aircraft systems, and enables our customers to proceed with certainty in ever-changing operational environments."

Puma LE can be operated manually or autonomously with AeroVironment's common GCS. Puma LE utilizes plug and play, interoperable line-replaceable unit (LRU) components that can be shared with other Puma AE aircraft. This native compatibility reduces training and logistical impact for operators. In addition, current Puma AE customers can now optimize their fielded systems by purchasing Puma LE as an add-on aircraft and easily installing Puma AE LRU components. Multiple Puma LE system options provide the flexibility for customers to choose the right configuration based on mission requirements.

AeroVironment is now accepting orders for Puma LE, with expected delivery in spring 2020.
Source: AeroVironment
Associated URL: Click here to visit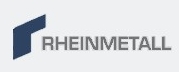 Source: Rheinmetall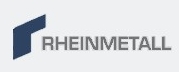 Source: Rheinmetall
Close
WASHINGTON - Rheinmetall will showcase its capabilities at the largest land warfare tradeshow in North America: the Association of United States Army annual meeting (AUSA 2019) taking place in Washington DC, 14-16 October 2019.

On display will be a Wiesel/Weasel fighting vehicle, the platform that forms the basis for Rheinmetall's innovative "Wiesel Wingman" autonomous combat vehicle concept for the US Army Robotic Combat Vehicle - Light program. The Wiesel Wingman brings together capabilities of Rheinmetall's "Wiesel Digital" and Mission Master UGV vehicle platforms.

The Wiesel Wingman is based on Rheinmetall's Wiesel Digital, a fully digitalized version of the Wiesel that has been refined over the past years. This includes the full digitalization of the vehicle and the replacement of all mechanical and hydraulic transmission elements with a digitized transmission. In addition, the Wiesel Wingman is equipped with Drive by Wire (DbW) with triple redundancy. This DbW system has gone through rigorous testing, making the Wiesel Wingman the very first armored tracked vehicle certified for on-road use with DbW.

The vehicle retains the high mobility found in existing variants of the Wiesel, with a top speed of 43mph and excellent maneuverability on various terrain due to its low GVW and low ground pressure. The Wiesel Wingman armored hull protects all critical components against fragmentation and small arms fire.

The vehicle can be equipped with a variety of systems; for the RCV-L the Wiesel Wingman includes a CROWS-J; other lethal variants are also possible, based on the payload capability of the Wiesel chassis. The vehicle has outstanding reconnaissance capabilities due to its superior mobility and its integrated tethered drone, which highly increases its surveillance and target identification capabilities. The Wiesel Wingman can be air-transported in a CH-47 and a CH-53 as an internal or external load. Two of the vehicles can easily fit into a C-130.

This vehicle has been tested and proven during various exercises and trials by the U.S. and German Army. The Mission Master UGV, developed by Rheinmetall Canada, contributes its autonomous technologies to the Wiesel Wingman platform. This provides the Wiesel Wingman with a tried and true suite of sensors, universal platform control and navigation software.

The Artificial Intelligence (AI) kit enables the vehicle to conduct semi-autonomous and autonomous operations, from remote-controlled steering to leader-follower operation and waypoint navigation. Obstacle avoidance, operation in environments lacking GPS and remote sensor/effector control make the Wiesel Wingman smartest, most robust vehicle in its class. Its open software architecture and the sizable internal volume provides the US Army with significant growth potential for future technology.

Rheinmetall Canada's Mission Master UGV will be on display along with the Wiesel at AUSA, in both cargo and protection (armed) configurations. The Mission Master platform is a world-leading autonomously operating UGV showcasing

Rheinmetall's advanced developments in autonomous combat vehicle operating capabilities. The Mission Master features all-terrain and amphibious mobility, as well as silent drive mode. It can operate autonomously or semi-autonomously. In addition to a flexible storage system, the Mission Master -- Cargo can be fitted to suit both high and low-profile operations. Its robust design can shoulder over a half-ton payload of supplies, equipment, and materials. The Mission Master - Protection will feature the unique

Rheinmetall Fieldranger Multi weapon station, armed with a 70 mm rocket launcher from Thales that recently demonstrated the ability to fire a salvo of 14 rockets, delivering 60 kg of explosives on objective in 1.6 seconds. The Mission Master - Protection can also support .50 cal. machine guns and 40 mm grenade launchers. For more details about how Rheinmetall is developing robotic, remote and autonomous vehicles and its proposal for the US Army RCV-L program, meet our team of specialists on Rheinmetall's booth No. 6618 at AUSA 2019.
Source:
Rheinmetall Defense
Associated URL:
Click here to visit
NOTICE TO USERS
Warranty: Forecast International makes no guarantees as to the veracity or accuracy of the information provided. It warrants only that the information, which has been obtained from multiple sources, has been researched and screened to the best of the ability of our staff within the limited time constraints. Forecast International encourages all clients to use multiple sources of information and to conduct their own research on source data prior to making important decisions. All URLs listed were active as of the time the information was recorded. Some hyperlinks may have become inactive since the time of publication.
Technical Support: Phone (203)426-0800 e-mail support@forecast1.com
Subscription Information: Phone (203)426-0800 or (800)451-4975; FAX (203)426-0223 (USA) or e-mail sales@forecast1.com
Aerospace/Defense News Highlights is published by Forecast International, 22 Commerce Road, Newtown CT 06470 USA. Articles that list Forecast International as the source are Copyrighted © 2019. Reproduction in any form, or transmission by electronic or other means, is prohibited without prior approval from the publisher.
Forecast International invites all interested companies to submit their announcements and press releases for review and inclusion in our Intelligence Letters.
Contact: Ray Peterson, Director of Research
Email: Ray.Peterson@forecast1.com
Phone: 800-451-4975
Fax: 203-270-8919