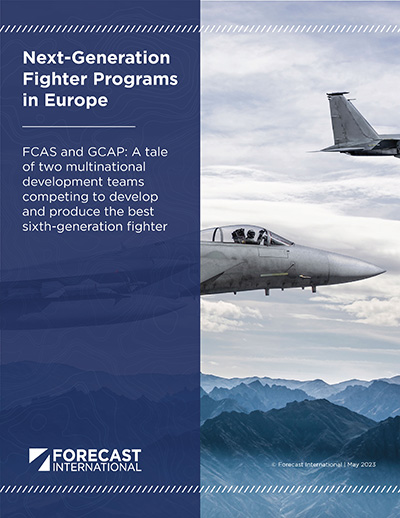 Airbus, Dassault Aviation, and other industrial partners are currently in the early stages of developing the Franco-German and Spanish sixth-generation fighter referred to as the New Generation Fighter. The NGF is the primary component of the Future Combat Air System (FCAS). Meanwhile, the United Kingdom, Italy and Japan have joined forces and launched the GCAP effort to develop their own combat system and sixth-generation fighter called the Tempest.
From a European perspective, the past decade has been more than eventful. With the Russian annexation of Crimea in 2014 serving as the prelude, the invasion of Ukraine on February 24, 2022, was a major turning point in modern European history, and the seriousness of the situation the continent is now facing cannot be overstated. On a false pretense, a major nuclear power illegally invaded and violated the territory of a sovereign state. Vladimir Putin has shown his true colors, and from here it is hard to envision any going back to a normalized situation between the West and Russia. Faced with a serious threat to their freedom and security, nations across Europe are now increasing their defense budgets at a faster pace to modernize and expand their militaries.
While the Lockheed Martin F-35 Lightning II multirole fighter jet has won nearly every single fighter competition out there, due, among other reasons, to the lack of a European fifth-generation rival, European sixth-generation fighter platforms will emerge in the next decade. Six nations and their respective defense industries have formed two multinational development teams and are now competing to develop and produce the best sixth-generation fighter. The two programs are the New Generation Fighter (NGF) – the combat aircraft component of the Franco-German and Spanish Future Combat Air System (FCAS) – and the Global Combat Air Program (GCAP) fighter, aka Tempest, a trilateral effort between the United Kingdom, Italy and Japan. Both programs aim to develop and field sixth-generation fighters in the 2035-40 timeframe.
Nations of Europe did not seek to develop a fifth-generation fighter and stayed with proven fourthgeneration platforms such as the Eurofighter Typhoon, Dassault's Mirage and Rafale, and the Saab Gripen. However, it should not be forgotten that the European aerospace industrial base played a significant role in developing the F-35, and European manufacturers in nations such as the United Kingdom, Italy, Norway, the Netherlands and Denmark have now produced fifth-generation fighter jet systems and components for well over a decade.
In the following, we provide background information about the FCAS and GCAP/Tempest fighters, including an analysis of how far the programs have progressed to date. We then investigate what lies ahead for 2023 and beyond. Finally, we provide an analysis of how many fighters might be procured by each of the two programs.