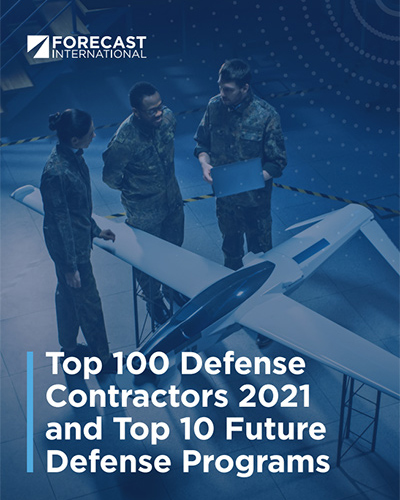 Following two years of crisis brought on by the COVID-19 pandemic, it should come as no surprise that pharmaceutical companies have entered into the top of the listing. Once those are accounted for, the top players remain pretty much the same, with Lockheed Martin maintaining its leadership as it has done for decades – amassing almost double the contract awards garnered by Boeing, which takes the second position.
The following is excerpted from the U.S. General Services Administration's Top 100 Contractors Report – Fiscal Year 2021 and from Forecast International's U.S. Defense Budget Forecast and Defense and Aerospace Companies services.
This list of the Top 100 U.S. Department of Defense prime contractors is ranked by total contract funds awarded. According to USAspending.gov, the DoD had defense contract award obligations of $395.51 billion in FY21, down 8.4 percent from $431.76 billion in FY20. The top 100 contractors accounted for $259.7 billion (65.6 percent) of the obligated dollars, compared to $291.5 billion (67.6 percent) in FY20.
In FY21, the DoD's share of available funding was $1.51 trillion, or 12.4 percent, of the FY21 U.S. federal budget. This is an increase of 18 percent compared to the DoD's share of the U.S. federal budget for FY20 of $1.28 trillion, or 11.2 percent.
Also included in this appendix are the top 10 contractors by branch of service and a listing of the top 10 programs for FY23-FY27.