Press Release
FOR IMMEDIATE RELEASE
COVID-19 Masks Start of International Power Generation Recovery
NEWTOWN, Conn. [July 28, 2020] – The 6.5 percent increase in sales projected for the 2020-2029 period marks the first sign in five years of a recovery in the gas turbine electrical power generation market. Despite this, 2020 will not be remembered as the year the recovery started but as the year the worldwide COVID-19 pandemic shut down the power generation equipment industry (along with much else). Despite the COVID-19 lockdown, projections of total world sales of power generation equipment over the decade have risen to $102.33 billion. Stuart Slade, Industrial Gas Turbines Senior Analyst, said: "In absolute terms, the impact of COVID-19 on the power generation equipment market is minor when considered in the framework of a 10-year forecast."
General Electric Energy will install nearly half the total electrical power generating capacity to be added over the period 2020-2029, according to projections made by Forecast International. When licensees and subsidiaries are included, GE Energy is projected to deliver 47.66 percent of the capacity to be installed during this period. Siemens will follow with 24.29 percent, while Mitsubishi Power Systems will contribute 15.13 percent. Thus, these three companies will be producing 87.08 percent of the projected increase in worldwide electrical power generation capacity between 2020 and 2029.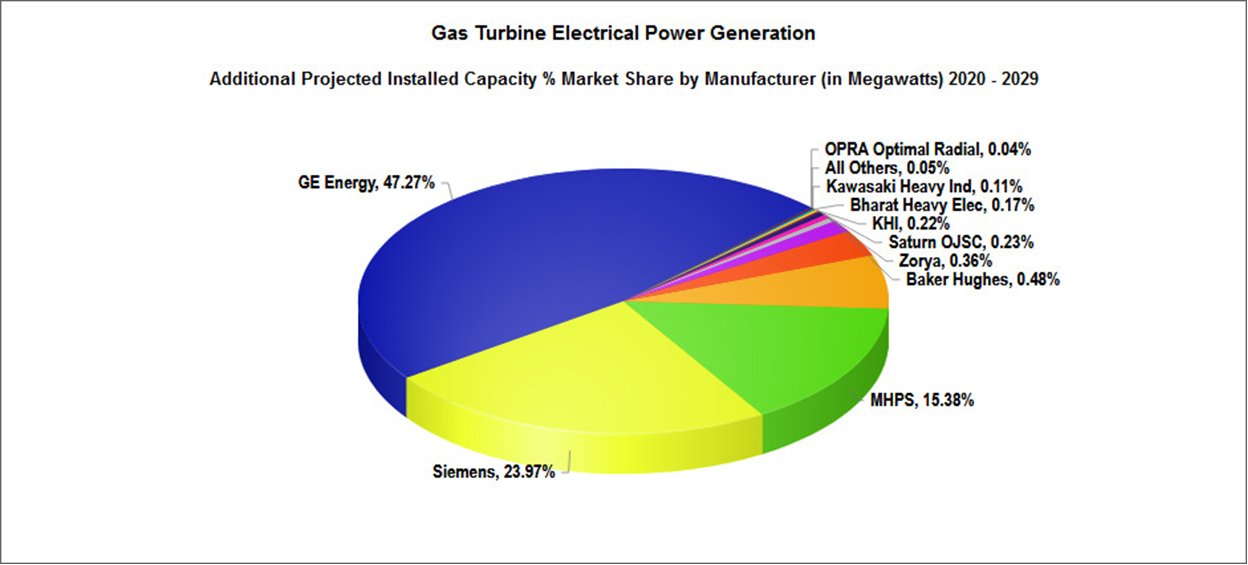 The improving forecast for the power generation equipment industry reflects the strenuous efforts made by these three major companies to adapt their corporate structures and capabilities to the current environment of reduced demand, overcapacity, and soft prices. Mitsubishi has dissolved its Mitsubishi-Hitachi Power Systems (MHPS) partnership, with the group now trading as Mitsubishi Power Systems (MPS). Siemens has dramatically restructured itself, changing from a conventional conglomerate to a constellation of three separate operating groups that are independently represented on the stock market. This was intended to make the group more flexible and responsive to changing technical developments. GE Energy has executed a deep-reaching reorganization that is intended to maximize its market penetration, eliminate marginal operations, and generally rationalize its business structure. This still leaves the company holding almost 50 percent of the power generation equipment market. This strategy brought with it significant risks that were picked up by stock market analysts to reflect concern about the company's performance. Slade adds that "GE Energy's market share in total capacity terms gives it major strengths that will help sustain it through a difficult readjustment period."

A detailed review conducted by Forecast International made using its breakthrough Platinum Forecast System 4.4 suggests that the existing overcapacity in the industry may have largely compensated for production issues caused by the COVID-19 pandemic. The main concern in 2020 appears to be servicing and maintaining the existing equipment inventory and dealing with unexpected outages. However, this appears to be an overstated issue at this point, with existing provisions being adequate to maintain services. Slade summarized the situation by saying, "When the pandemic struck, the power generation industry stepped up to the mark."

About Forecast International
Forecast International, Inc. is a leading provider of Market Intelligence and Consulting in the areas of aerospace, defense, power systems and military electronics. Based in Newtown, Conn., USA, the company specializes in long-range industry forecasts and market assessments used by strategic planners, marketing professionals, military organizations, and governments worldwide. Forecast International also maintains a high posture of situational awareness and geopolitical analysis.
---
Contact Information
Ray Peterson
Acting President, Research & Editorial Services
Forecast International
22 Commerce Rd. Newtown, CT 06470 USA
(203) 426-0800
ray.peterson@forecast1.com.