Press Release
Contact: Ray Peterson, VP, Research & Editorial Services
Phone: (203) 426-0800
Fax: (203) 426-4262
Website: www.forecastinternational.com
E-mail: ray.peterson@forecast1.com
Forecast International, Inc.
22 Commerce Rd. Newtown, CT 06470 USA
FOR IMMEDIATE RELEASE
Forecast International: Boeing on a Roll; Both Civil and Military Markets Remain Strong
NEWTOWN, Conn. [August 1, 2017] – Forecast International notes that recent reports of significant layoffs by Boeing have proven to be of little concern to Wall Street investors, who shrugged those actions off as an efficiency move. Not only that, Boeing stock rose dramatically to a new high last week, and during a two-day period jumped 28 points, sending the Dow Jones Average to a new all-time high.
Boeing and its European rival, Airbus, are locked in head-to-head competition in a market for new jet airliners that represents the largest and most astounding re-equipment cycle in aviation history, a market that will remain strong over the next 20 years, according to data compiled by Forecast International. While the rivals remain close in terms of quantities of airliners delivered, Boeing is clearly winning the revenues battle, largely because its competitor's flagship aircraft, the giant four-engine A380, is running out of orders as airlines find more cost-effective solutions in combinations of large twins. Consequently, the A380 program is operating at a loss, placing a heavy drag upon overall profits for Airbus.
Boeing's order backlog for civil airliners, while declining, remained at 5,744 at the end of June, with 352 deliveries in 2017. According to Forecast International's Platinum Forecast System®, Boeing will produce over 12,300 large jet transports during the period 2017-2031, valued at over $2.071 trillion. This does not count the additional revenues the firm will earn from service and maintenance contracts of all types, as well as retrofit and modernization programs.
Boeing's military business, while dwarfed by civil revenues, will nevertheless remain at a significant level, providing an important secondary source of income. Shown below are Forecast International's Top 25 Featured Programs based on the U.S. DoD's requested funding for FY18. It is noteworthy that Boeing occupies six positions in the Top 25, plus three more in the less significant programs.
Boeing Programs
FI Top 25 Featured Programs, U.S. DoD Defense Budget for FY18
| | |
| --- | --- |
| Boeing KC-767/KC-46 | $2.646B (1) |
| Boeing AH-64 Apache | $1.884B (2) |
| Boeing P-8A Poseidon | $1.607B (3) |
| Boeing F/A-18E/F Super Hornet | $1.427B (4) |
| Bell/Boeing V-22 Osprey | $1.188B (5) |
| Lockheed Martin/Boeing F-22 | $1.026B (6) |
Other Programs, U.S. DoD Defense Budget for FY18
| | |
| --- | --- |
| Boeing F-15 Eagle | $967.311M |
| Boeing 747 Series | $434.069M |
| Boeing E-3 Series | $341.498M |
Notes:

The production of 179 KC-46 tankers will ramp up to replace a portion of the USAF's fleet of over 400 aging KC-135s. The KC-46 is based upon the Boeing 767 airframe.
24 Apache gunships in FY18 comprise continuing procurement of new-build and remanufactured AH-64Es for U.S. Army buildup, as well as Foreign Military Sales to half a dozen countries –South Korea, India, Indonesia, Qatar, the U.K., and Saudi Arabia – plus potential additional export sales.
Production of the U.S. Navy's P-8 Poseidon long-range maritime patrol anti-submarine warfare aircraft will be ongoing to replace Lockheed AP-3Cs. A few sales to export customers are also expected.
The Navy has lobbied Congress to extend production of the Super Hornet through at least FY18, and delays in the F-35 program could easily extend the program for a few more years. Boeing is likely to find a few export customers who find the Super Hornet a highly capable first-line fighter that can be procured at far less cost than F-35s.
There will also be ongoing production of the V-22 Osprey for the U.S. Navy and Marines, plus a few for the Air Force, which hopes to eventually buy more. Japan is also taking about four per year and could ultimately receive as many as 17.
While the advanced capability F-22 is not likely to return to production, existing aircraft in the USAF fleet are undergoing modifications and upgrades to enhance their capabilities.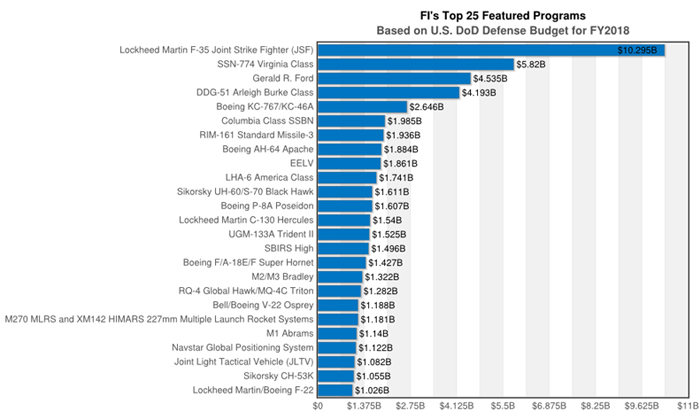 Source: Forecast International's U.S. Defense Budget Forecast


About Forecast International
Forecast International, Inc. is a leading provider of Market Intelligence and Analysis in the areas of aerospace, defense, power systems and military electronics. Based in Newtown, Conn., USA, the company specializes in long-range industry forecasts and market assessments used by strategic planners, marketing professionals, military organizations, and governments worldwide. Forecast International also maintains a high posture of situational awareness and geopolitical analysis. Forecast International's resources and extensive base of experience can also be readily adapted and efficiently focused to fulfill a broad spectrum of civil and military consulting and special research requirements. The company is increasingly performing proprietary consulting studies in support of the diverse markets it covers.
---
Contact Information
Ray Peterson
Vice President, Research & Editorial Services
Forecast International
22 Commerce Rd. Newtown, CT 06470 USA
(203) 426-0800
ray.peterson@forecast1.com.