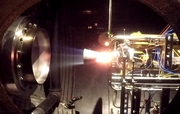 Source: Aerojet Rocketdyne
Source: Aerojet Rocketdyne

Close

REDMOND, Wash. -- Aerojet Rocketdyne has completed hot-fire testing of a new in-space engine, designated ISE-100. Developed for commercial in-space applications, ISE-100 could also be used for future lunar robotic missions. Producing 100 pounds of thrust, the ISE engine has the capability to provide downward thrust during landing, easing spacecraft down to the lunar surface.

ISE-100 is a bi-propellant satellite engine utilizing MON-25/MMH propellants. It utilizes 3D printed components, such as the Titanium injector, which Aerojet says will help reduce manufacturing costs.

During the test program, the engine successfully accumulated 75 individual tests, 774 pulses and more than 500 seconds of hot-fire time. Key tests performed in this program included multiple long duration steady state burns; multiple short pulse trains; and a long endurance duty cycle, representative of potential robotic lunar lander missions.

The ISE-100 engine will now move from the development phase to the certification phase where it will undergo additional configuration testing with flight qualified materials.

The ISE-100 will join Airbus' S400, IHI's BT-4, and Moog's LEROS series bi-propellant satellite propellant systems in the market. With three incumbents, competitive intensity will be high in this market. The reduced demand for geosynchronous satellites, which are the common market for such engines, will further increase competition. However, by emphasizing the system's ability to support lunar missions, Aerojet hopes to expand the overall market for the ISE-100.