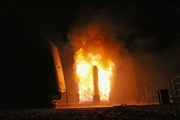 Source: US Navy
Source: US Navy

Close

WASHINGTON -- The U.S., together with the U.K. and France, carried out strikes on Syria over the weekend, following a suspected chemical weapons attack in Douma.

Early on April 14, 2018, the U.S. military as well as the U.K. and France conducted strikes on Syrian government positions around Damascus and elsewhere in the country, mainly targeting what the three countries said was infrastructure related to the Syrian chemical weapons program. The three countries utilized both warships and aircraft in the attack.

U.S. military officials noted following the attack that this was a single event and would not necessarily be followed by more, but left the door open for further action.

The U.S.-led attack utilized at least double the amount of missiles and other munitions as were used in a previous U.S. attack on the Syrian government, in April 2017. Both attacks were conducted in response to suspected chemical weapons attacks carried out by the Syrian military.

Damascus, as well as allies Russia and Iran, deny the Syrian military has used chemical weapons in its campaign against insurgent forces.

American officials said the attacks had set the Syrian chemical weapons program back "for years", though an independent assessment of the impact of the strikes is not possible. While Syrian state TV claimed that air-defenses shot down many of the incoming projectiles, it is believed that number of actual interceptions was limited at best.

Though the Russian military operates a significant amount of air-defense infrastructure in Syria, particularly along the coast, no Russian-operated systems were used to defend against the incoming projectiles. The U.S. stated that it had not forewarned Russia of the impending attack, but analysts suggested that the non-response from Russia's air-defenses indicated that Moscow was aware of the targets of the strike.

The U.S. noted it took all necessary precautions to avoid Russian casualties.

Nevertheless, Russia vowed the attacks would see a response from Moscow, without offering further details.

The attacks early on Saturday are not a strategic setback for Damascus, but do demonstrate the U.S.' determination to deter the usage of chemical weapons. Furthermore, despite Russian warnings, Russia is unwilling to extend a security umbrella to protect the Syrian military, at least in instances where the Russian military is not threatened and the attacks will not prove to be existential challenges to the Syrian government.

Recently, U.S. President Donald Trump has suggested that he wants to withdraw the U.S. from Syria, citing progress against Islamic State militants. The strikes over the weekend, however, signal that American interests in Syria are not limited purely to the defeat of the Islamic State.