Source: US DoD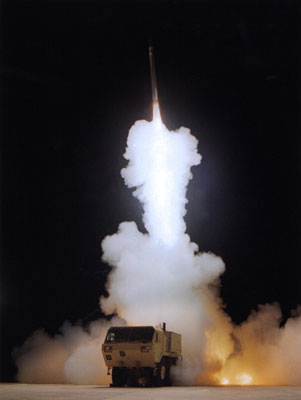 Source: US DoD

Close

WASHINGTON -- U.S. President Donald J. Trump sent Congress a proposed Fiscal Year (FY) 2019 budget request of $716 billion for national security, $686 billion of which is for the Department of Defense. The FY 2019 budget increases end strength by 25,900 over the FY 2018 budget.

Highlighting the importance of missile defense programs, the National Defense Strategy calls for investments that will "focus on layered missile defenses and disruptive capabilities for both theater missile threats and North Korean ballistic missile threats."

Those investments for FY 2019 include:

-- 43 AEGIS Ballistic Missile Defense (SM-3) - $1.7 billion

-- Ground Based Midcourse Defense - $2.1 billion

-- 82 THAAD Ballistic Missile Defense - $1.1 billion

-- 240 Patriot Advanced Capability (PAC-3) Missile Segment Enhancements - $1.1 billion

In addition, the National Defense Strategy calls for a Joint Force that "must be able to strike diverse targets inside adversary air and missile defense networks to destroy mobile power-projection platforms."

To help accomplish that goal, the FY 2019 budget includes the following preferred munitions:

-- 43,594 Joint Direct Attack Munitions - $1.2 billion

-- 9,733 Guided Multiple Launch Rocket System (GMLRS) - $1.2 billion

-- 6,826 Small Diameter Bomb I - $0.3 billion

-- 1,260 Small Diameter Bomb II - $0.4 billion

-- 7,045 Hellfire Missiles - $0.6 billion

-- 360 Joint Air-to-Surface Standoff Missile-Extended Range - $0.6 billion

-- 1,121 Joint Air-to-Ground Missiles - $0.3 billion

The budget implements the commitment in the National Defense Strategy to "modernize the nuclear triad - including nuclear command, control, and communications, and supporting infrastructure."

FY 2019 investments in nuclear deterrence include:

-- Long-Range Stand-Off Missile - $0.6 billion

-- Ground Based Strategic Deterrent - $0.3 billon

This budget request invests $13.7 billion in science and technology to further innovation and new and advanced capabilities including hypersonics technology, cyber space, space, directed energy, electronic warfare, unmanned systems and artificial intelligence.