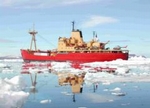 Source: Mercopress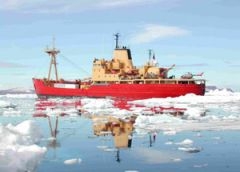 Source: Mercopress

Close

TALCAHUANO, Chile -- GE's Marine Solutions was chosen by Chile's ASMAR Shipyards to provide an integrated marine propulsion system for the Chilean Navy's new Antarctic icebreaking Polar Class vessel. It will replace the retired icebreaker to continue the navy's Antarctic expedition for search and rescue missions, scientific research, logistic support and resupplying bases in the Chilean Antarctic Territory.

The 110-meter long vessel will have GE's full marine propulsion system to power and propel the vessel, including diesel electric propulsion, GE's International Maritime Organization's (IMO) Tier 3-compliant diesel engine, a complete propulsion shaft line and propeller, a tunnel thruster, SeaStream* Dynamic Positioning (DP) and vessel automation system.

The vessel has received Lloyd's Register PC 5 polar class notation, reflecting the strong icebreaking capability of the vessel. In fact, with an installed power of 14.5 megawatts, it will be capable of breaking 1 meter of ice at 3 knots.

Chile announced plans in 2011 to acquire a new icebreaker for the Navy, to be used in the Antarctic region. In July 2014, the MoD ruled out the procurement of a used ship in favor of a new ship. And in December 2014 the Navy launched an engineering study into the feasibility of constructing a replacement vessel. In March 2016, ASMAR awarded Vard Marine, of Canada and the U.S., a contract to design the new ship. The new vessel will replace the Navy's existing Almirante Viel icebreaker, which was built in 1969 and entered service with the Chilean Navy in 1994.

The vessel will have a displacement of about 6,000 tons, a useful life of 20 years or more, a flight deck and hangar capable of accommodating two or more medium transport helicopters, and space to accommodate a crew and cargo.

In February 2016, a contract was signed with Vard Marine to build the new vessel. It will be completed in four years. While a contract value was not announced, Chile has said it wants to spend about $200 million on the ship.